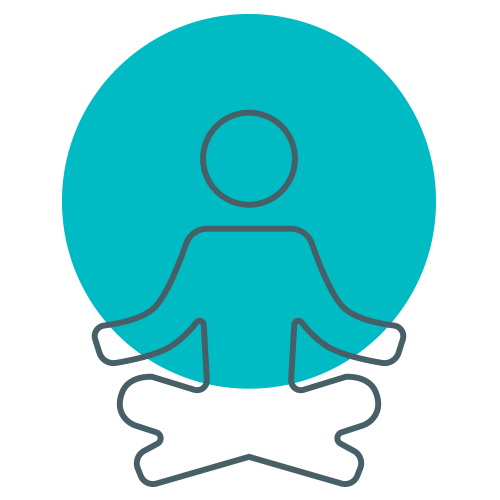 MBSR
Mindfulness has been gathering much attention over recent years as a tried-and-tested method of reducing stress and anxiety. By helping us to focus our attention on the present moment and not get swept up in worrying or negative thoughts about the past or future, a regular practice can help us to:
learn to cope better with the pressures we're under;
recognise the thoughts and judgements we make, often subconsciously, that generate more stress;
find balance and a sense of calm.
MBSR is the most recognised and established mindfulness course, taught all over the world, and scientifically proven to help people cope better with stress, depression and anxiety. This eight-week life-skills course combines experiential mindfulness practices with the latest tools and techniques of neuroscience, psychology and the study of well-being. It includes mindfulness meditation practices, gentle stretching and movement, group dialogue and discussion, individually tailored instructions and home assignments. The course consists of eight, two-hour sessions. The full-day retreat will be uniquely designed as an exercise in incorporating mindfulness into the flow of life and will include a variety of guided practices, a silent lunch, and an afternoon of meditation.
MBCT
The Mindfulness-Based Cognitive Therapy (MBCT) programme is closely modeled on MBSR with some important differences designed specifically to help us deal with depressive mood states. The programme has been shown to be highly effective in preventing depressive relapse and in treating other psychological conditions, including anxiety and stress-related conditions. MBCT is included in the NHS NICE guidelines and is increasingly used in therapeutic practice.
While the content and learning outcomes of the course are very similar to our other 8-week mindfulness courses, this particular course presents an opportunity for participants to learn new ways of managing and preventing episodes of low mood and anxiety in a group that shares experience of struggling with these issues.
By training ourselves to focus our attention on the present moment, MBCT can help us:
cope better with emotional challenges;
change our relationship with difficult thoughts and feelings;
learn skills to reduce the risk of further episodes of low mood or depression; and
increase a sense of calm and wellbeing.
Over the course of the 8-week MBCT programme, participants will learn how mindfulness can help us recognise when we become entangled in streams of worries, self-criticism and ruminative thinking, and learn tools to interrupt this process and make wise choices in the face of emotional challenge. At the end of the 8-week course, participants will feel better equipped to face life's difficulties with self-compassion instead of self-criticism, using the tools and skills they have learned.
START DATE
to be confirmed Interpersonal Mindfulness Centre
©2019 All Rights Reserved.
Privacy Policy | Cookies
Designed by halscarpellini.com